Artist Profile
Michael Mariano's Resume / Curriculum Vitae – Download resume in PDF format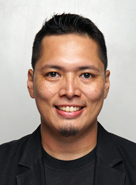 Michael Mariano is an independent Filipino photographer / digital designer who is based in Makati, Philippines.
One of the pioneer graduates of De La Salle-College of Saint Benilde's Multimedia Arts program, he has worked for various Multimedia and Post-production companies such as K2 Interactive and Roadrunner Network as a Multimedia Designer. In 2007, he established Marianomedia.com as his main jump-off point for prospective photography /design clients. He has traveled extensively as a professional photographer catering to various PR and Advertising client requirements from fashion, portraiture, travel, lifestyle, food, products, corporate and industrial.
Michael has never imagined that he would see things around him through ruby colored glasses. Instead of dabbling with art materials and cameras, as a kid he spent his time outdoors playing with his friends on the playground. On rainy days and brownouts, he would scribble on paper, play with candle wax and his Lego bricks. Little did he know that such activities would eventually prepare him for something bigger. The world is now his playground, and his "toys" are now cameras and computers that enable him to create graphic, digital and photographic works for his various clients in the advertising and multimedia industry.
Michael has also taught Digital Imaging and Interactive design at schools like Asia Pacific College, DLS-College of Saint Benilde and St. Scholastica's College. He has conducted various photo and multimedia workshops in and around Metro Manila for various profit and non-profit organizations. He has also conducted local and international photography workshops with DLS-CSB AB-Multimedia Arts photography track faculty in exotic locales such as Bohol, Camarines Sur, Cebu, Correigdor, Vigan/Ilocos Norte, Palawan, Hongkong, Macau and Thailand.